Torbal Pate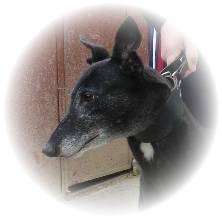 Black Bitch - April 2000
Top Honcho x Genotin Laura
For info on 'Emmas' litters so far, scroll down to the bottom of the page.
~
'Emma' is incredibly well bred from a damline that throws winner after winner, in her short racing career she recahed A2 at Yarmouth.
Her dam Genotion Laura hails from the great Skipping Chick damline and has thrown multiple open race winners> This is the same damline that produced Droopys First (dam of some of the Dunphys finest broods) and further back has produced the likes of Daleys Gold, Curryhills Fox, Echo Spark, Westpark Moth, Greenfield Fox and Ballinderry Moth.
'Emma' is sired by the legendary Top Honcho, whose daughters are proving to be nice broods and have thrown dogs like: Smiling Man, Ronans Delight, Marmions and Droopys Oasis.
Genotin Laura has thrown:
Saradeb - Breeders Produce Stakes 97 Finalist (Clonmel), Winner £6,000 Birmingham Flat (PerryBar), Finalist 97 St Mungo Cup (Shawfield),Winner 97 Midland Flat Championship (Hall Green),Finalist 97 Select Stakes (Nottingham) which was won by Larkhill Jo and Finalist in the 98 Midland Gold Cup at Monmore.

Davdor Demon - Finalist 97 & 98 English Champion Stakes.

Skelligs Mick - Multiple Open Race Wins at Wimbledon, Reading, Oxford and Milton Keynes.

Charliemedarling - 99 Blue Ribband Finalist (Hall Green) won by Droopys Merson.
A number of 'Emma's sisters have had litters and have already produced open race winning progeny, such as:
Magna Mint (Multiple Top Open Wins & 2001 Irish St Leger Finalist (Limerick) won by Droopys Kewell),
Mahogany Solo (Golden Crest 2002 Finalist won by Blue Gooner).
And Kingswillow, Davdor Dizzy, Top Redondo, Davdor Dixie, Pendulum and Fast Pass.
Her half sister Davdor Diva was once voted dam of the year for open race winners, and this damline is still producing open race winners week in week out!
Emmas Litters
Emmas first litter were born in July 2003, she had a litter of 6 pups (1 dog 5 bitches) sired by Small Fortune. They all graded and are racing at Yarmouth. Every pup from this litter has won a race and they appear to excell over a longer distance.
Emmas second litter were born in May 2005, she had a litter of 8 pups (4 bitches 4 dogs) sired by Special Trick. All the pups from this litter have been sold.